To capture a screenshot of your screen, please follow the steps below.
Click the extension icon on the right side of your address bar.
From the popup menu, choose the Capture tab.
Select an option from the Capture menu to take a screenshot.
Annotate your screenshot if desired, and then click Save or Done. You can skip the annotation process if you prefer.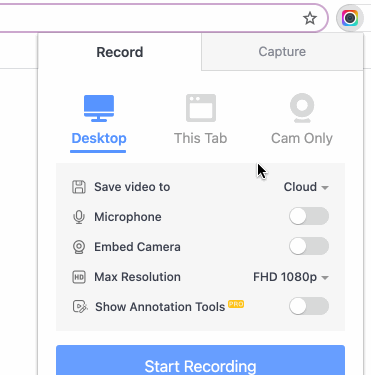 Tips:
You can also use shortcut keys to take a screenshot. Hover your mouse over an option to see the key combination.
If the preseted Capture shortcut key combination is not working for you, it may be due to a conflict with the shortcut keys of other extensions or apps.
How to change screenshot shortcut combinations in the Awesomescreenshot extension/add-on
If you use Capture much more frequently than Record, you can set Capture as the primary tab by the extension Options.